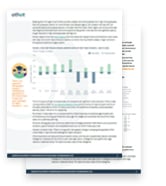 A unique look at how demographic changes will impact individual institutions
We're expected to arrive at the demographic cliff – a steep drop off in college-aged students in the United States – in four or five years. That cliff, caused by the "birth dearth" that started in 2008, will lead to a corresponding decline in college enrollments.
All regions of the United States will be impacted; however, the population declines will be uneven, varying by state and institution type.
What does this mean for your institution?
Using public data and our analytics, we assessed how first-time student enrollments will be impacted by the expected population declines at more than 450 U.S. institutions. This report explains how substantially the upcoming demographic cliff and geographic realities will influence your enrollment.
Key findings from the research:
Among those institutions that are expected to see large declines (-9% or more), the great majority are public institutions.
It is also the case that those institutions with the brightest outlook are also public institutions.
Institutions with the highest and lowest expected growth rates are those that tend to recruit most heavily in their home state.
More than a third of the institutions with the most dire forecasts, (those in the lowest quartile of expected growth) have substantial room to improve retention rates to help support stable enrollment. Most of these are public institutions.
Our research and growth rate forecasts will help higher ed leaders imagine future enrollment classes and, if necessary, guide them to adjust their recruitment and retention strategies.