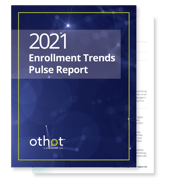 What was the pandemic's impact on 2021 enrollment?
We analyzed new, first-time student data from our partner institutions to help answer the question.
Key findings from the research:
Partner institutions that used AI and data analytics had a 6.97% increase in enrollment, two times better than the national average of a -2.6% decline.
Overall deposit rates for partner institutions improved from 2020 to 2021.
Student melt rates increased 0.50% for our partner institutions, with public institutions seeing a 1.44% increase in 2021.
Where does your institution stack up?
Download the 2021 Enrollment Trends Pulse Report and benchmark your institution's enrollment data against our aggregated partner data to find out how you stack up with deposits, summer melt, and enrollment at census data.