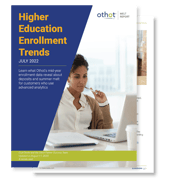 Data Trends: Advanced Analytics and the Fall Census
This mid-year enrollment trend analysis looks at summer melt and deposit trends from our partner institutions nationwide using advanced analytics.
Key findings from the research:
Overall deposit rates for partner institutions trended upwards by 5.8% as of July 1, with public institutions seeing an uptick of 6.4% on average.
Compared to last year, July 1 melt is significantly lower among both private and public institutions.
The reduction in uncertainty regarding the pandemic has ultimately led to a decrease in the "double deposit" activity from students seen in 2020 and 2021.
Where does your institution stack up?
Download the 2022 Mid-Year Enrollment Trends Report and benchmark your institution's enrollment data against our aggregated partner data to find out how you stack up with deposits, summer melt, and enrollment as we get closer to the Fall census.