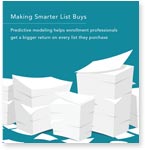 Learn how to get a better ROI on your list purchases
It's standard practice for enrollment marketers to buy tens of thousands of student names from the ACT, College Board, and other sources, and then follow up with high-leverage marketing campaigns and admissions outreach.
This Guide explains how predictive modeling can help an institution make smarter list buys to find higher probability students, and get valuable money-saving insights after a list has been purchased.
Othot's predictive analytics software is a powerful solution.
Increase enrollment
Shape the class with best-fit students
Make smarter financial aid allocations
Get a bigger return on your marketing dollars
Help your admissions counselors make better use of their time