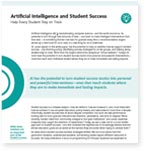 Artificial Intelligence and Student Success
Help every student stay on track
Student success is a complex subject. How we define it, how we measure it, and most importantly, how we achieve it, has influenced the way educators, policymakers, and advocates approach student success.
And because every student's experience is unique to the individual student, from their educational goals to the barriers they encounter when trying to achieve them, the one size fits all approach is no longer effective.
AI-enabled solutions can help.
AI provides a new way to process, understand, and act on the very complex variables that contribute to student success. AI has the potential to turn student success tactics into personal and powerful interventions—ones that reach each students where they are to make immediate and lasting impacts.
This whitepaper is a guide for higher ed institutions that want to find a better way forward for student success. You'll learn:
Why AI is important for student success interventions
What are the three types of AI that are critical to student success
How AI can support student success outcomes at your institution
What types of data you need to collect and how much you need to get started