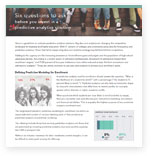 Six questions you should ask
A robust predictive analytics solution can significantly impact your ability to meet enrollment targets, and knowing which students to target means knowing how to best spend your dollars and resources. But how can a prospective buyer distinguish between the many available options?
This Guide shows you six questions to ask so you find a solution that meets your needs.
Othot's predictive analytics software is a powerful solution.
Increase enrollment
Shape the class with best-fit students
Make smarter financial aid allocations
Get a bigger return on your marketing dollars
Help your admissions counselors make better use of their time