Othot's Second Annual Partner Experience and Innovation Summit
The people crazy enough to think they can change the world are the ones that do.
Steve Jobs
Othot's Second Annual Partner Experience and Innovation Summit welcomed attendees from colleges and universities across the country. These schools, our partners, are using data and advanced analytics to respond to mounting pressures, like demographic shifts, fewer students, affordability, and increased competition. Our partners have fundamentally changed the way they manage the student journey. They are game changers.
PNC Park was the ideal spot to hear how data and analytics are 'changing the game' in higher education, and to hear from keynote speaker, Sean Casey, former MLB player and MLB Network analyst, who has witnessed firsthand how analytics have transformed baseball.

The educational sessions lead to lively discussions on student success, financial aid, marketing automation, list buys, as well as strategic enrollment, and the mind of a Provost. A few themes and takeaways emerged from the breakout sessions and discussions, including:
Data and advanced analytics support decision making. They do not replace the human aspect in decision making.
Higher education is changing, and new strategies and tactics are necessary to remain 'in the game.'
Data and analytics are catalysts and can be used to enhance and optimize strategic enrollment efforts.
How do data and analytics support decision making?
"Information is power," said Patty Beeson, former Provost at the University of Pittsburgh and Director of Research at Othot. "It's how you use it that influences your decision making."
Beeson presentation's, "The Mind of a Provost," offered a rare glimpse into how a Provost's weighs decisions and trade-offs for enrollment goals.
She explained that when you have a lot of variables, specifically as they relate to setting enrollment goals, advanced analytics and machine learning can handle the difficult part, so the individual can focus on making a decision. Artificial Intelligence (AI) will not replace human involvement in decision making; it's there to support decisions that have many variables and inputs.
Data and advanced analytics also are prompting institutions to re-examine how they make decisions about financial aid. Jeff Morgan, Product Operations Manager at Othot, explained in the session, "Uncovering Optimal Financial Aid Strategies," how Othot's models understand what variables are driving enrollment at an institution and if financial aid has an impact on a student's likelihood score.
From there, different models can be run to identify an optimized strategy to assist with financial aid decisions. However, the recommendations are not a 100% replacement for human involvement in those decisions.
"Othot's goal is to provide "explainable AI," so institutions can take possible actions and make informed business decisions," said Zach Varga, Othot's Senior Director of Customer Success and Morgan's co-presenter. "Uncovering the optimal aid strategy is not just to do right by the institution, but, more importantly, the individual students."
The Higher Education landscape is changing and new strategies and tactics using data and advanced analytics are necessary to remain 'in the game.'
At the session, "Increasing Marketing and Recruitment Effectiveness," Blake Slyter, Enrollment Strategy Analyst at Arizona State University (ASU), and Chris Wright, Dean of Admission at Massachusetts College of Art and Design (MassArt), talked about how they are incorporating data and analytics into their marketing tactics.
For Wright, data and analytics have helped his team of eight counselors be more efficient with their time.
Using Othot's likelihood to enroll scores, the counselors can identify which prospects need a nudge. Wright has also integrated Othot's likelihoods scores into his Slate CRM. The integration with Slate puts everything the counselors need in one place so they can quickly check records, make updates, and see what activities will have the most impact on a student's likelihood to enroll score.
Slyter echoed Wright's comments about how data and advanced analytics have helped save time and create marketing efficiencies. He explained how data and advanced analytics have helped to evolve ASU's marketing to be more targeted and customized.
ASU has multiple campuses that attract different types of students. Slyter can use Othot's modeling to determine the best message to send to prospective students for each campus.
"Othot models across the lifecycle of our funnel. We use the scores to confirm that our marketing is going to the right audience."
Data and advanced analytics are catalysts and can be used to enhance and optimize your strategic enrollment process.
During Traci Roble, Customer Success Manager at Othot, and Bob DiMaggio, Othot's Vice President of Product, session titled, "What AI Means for Strategic Enrollment Management and Student Success," they talked about how data and advanced analytics can be catalysts for change at higher education institutions. Data and advanced analytics can support decisions about where best to use limited resources, like human capital and budget.
Traci and Bob showed how the Othot platform helped a higher education institution identify and define student success. They shared an example that demonstrated how data and advanced analytics can bridge the gap or 'change the game' when it comes to developing thresholds and interventions for student success.
In the example, one institution defined students at academic risk for retention if they had a cumulative GPA at or below 2.00. However, Othot's models indicated that students below 2.33 were just as much at risk.
The Baseball Connection
The keynote speaker, Sean Casey, regaled the audience with anecdotes from his storied baseball career.
He recounted his days as a rookie through retirement, and how he is amazed by the impact that data and analytics have had on baseball. "It's changed the game," he said. "Teams are investing in analytics to improve performance at both the team and the individual level."
Casey cited examples of teams who have been using analytics to improve operations and player development, including the Houston Astros. The Astros became the champion of Major League Baseball for the first time in its 56-year history, and did so after losing 111 (out of 162) games just four years before.
Analytics have enabled teams to pinpoint weaknesses and strengths and build strategies to win more games, improve ERAs, and evaluate individual players—just as higher education institutions have used data and analytics to refine strategies to 'win' students, improve financial aid strategies, and identify students at-risk for retention.
Color Commentary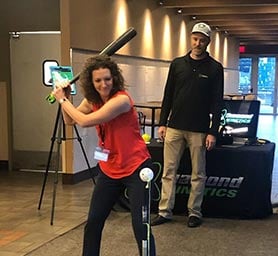 No Othot event would be complete without some fun and celebration. During the cocktail hour, attendees were treated to a tour of PNC Park, one of the best ballparks in America, and could take a swing at PNC Park with Diamond Kinetics.
The market leader in baseball and softball motion technology, Diamond Kinetics provides cutting-edge tools, technology, and training content to coaches, parents, and players, with the ultimate goal of helping every player improve, develop their skills, and have more fun playing the games of baseball and softball.
What's Next?
As data and analytics continue to evolve, Othot strives to provide a solution that will meet the needs of higher education institutions. John Abbatico, Othot's Chief Technology Officer and Co-Founder, showed off Othot's product map in his session, "Othot Platform Today and Tomorrow: Empowering New Decision Making Models For the Future." Abbatico described some of the new features that will be part of future releases, as well as Othot's Strategic Vision to more directly link institutional goals to outcomes as it relates to product development.
"Our promise to you is to make the best data science actionable with the least friction," Abbatico said.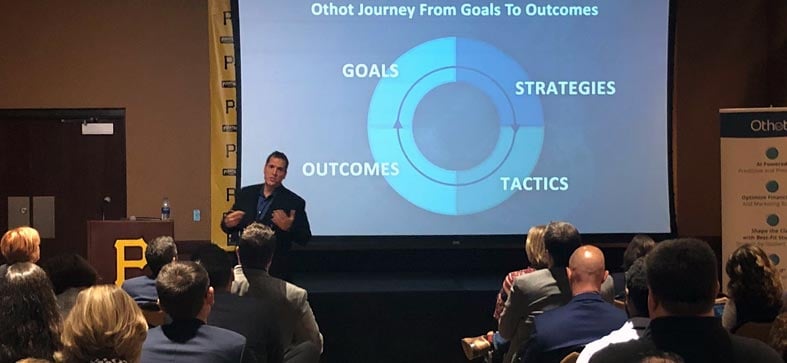 Recent emphasis has focused on supporting more seamless data integration and creating more linkages between goals, strategies, and tactics. In the future, Othot intends to develop increased flexibility with dashboard visualizations, more advanced scenario and simulation functionality, and proactive signals around what has changed.
One of the benefits of an agile high-tech company is the flexibility to change the roadmap based on customer feedback. And that's what happened during the session titled, "Managing Prospect List Buys." DiMaggio and Chris Lucier, Othot's Director of Customer Relations, showed how Othot's Platform helped a customer reduce spend on name buys. By asking the question, 'What is the likelihood to apply,' Othot's models identified opportunities and trade-offs with list buys. This feature is in development, and it was clear from customer feedback, that there would be some reprioritizing of the product roadmap.
Final Thoughts
Othot's CEO, Andy Hannah, citing a quote from Woodrow Wilson, reminded everyone why they had gathered for the Partner Day.
You are not here merely to make a living. You are here in order to enable the world to live more amply, with greater vision, with a finer spirit of hope and achievement. You are here to enrich the world, and you impoverish yourself if you forget the errand.
The dedication of our partner schools is evident every day in the work they do to support their institutions and their goals, and we're proud to be on the journey with them. We marked the end of the Second Annual Partner Experience and Innovation Summit with a renewed commitment to innovation, collaboration, and community - three tenets that have helped our customers change the game.