The build versus buy decision is significant for higher education institutions, especially when it involves data and analytics software. There are a number of factors to consider, including costs, technical proficiency, domain experience, time, and others.
Here are a few things to consider when determining if build or buy is the right decision for you.
Why you should consider building a custom solution?
Building software has many benefits, but a higher education institution should only build if it can create a solution that will be cost effective and provide a distinct competitive advantage, and if it has specialized needs that can't be addressed by purchasing a solution.
It's a good idea to use data to evaluate your decision. First, put together a list of requirements for the solution. That will help you to validate the need for the solution and help estimate the costs associated with building it.
Then you need to determine if you have the talent on your team or if you need to hire more people, and add that to your cost estimates. You also need to think about the project's timeline and how that will impact the day-to-day operations and tasks of that team. What are the opportunity costs? What are the costs to maintain the solution and to train users? Those numbers should also be added to your cost estimates.
What you may find is that a significant investment of time and resources is necessary to build a solution. In many cases, this could take a team of half a dozen individuals over 12 months to standup. And you may not have what you need to make the investment.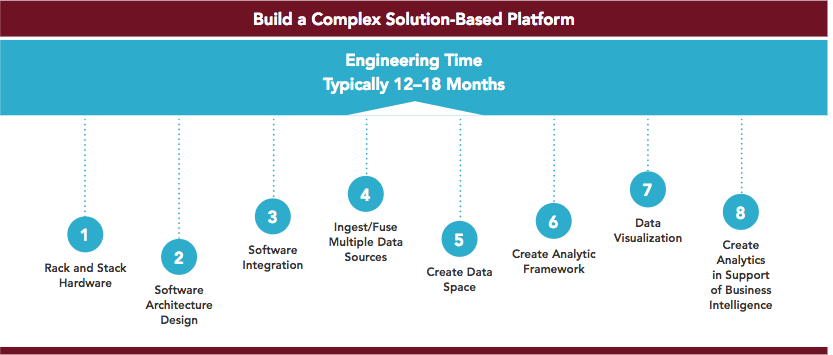 Build a Complex Solution-Based Platform 1
If you do decide to buy, the information you've gathered thus far can help you evaluate solutions and find the one that will best fit your needs.
Why you should consider buying a solution?
Buying a solution may often be the best option for your institution. There are predictive analytics solutions available on the market that are less expensive than a custom build and more effective at delivering value. If you have limited resources or a short timeline, buying may make more sense.
The buy option also affords you a dedicated team of developers, data scientists, customer success managers and others who are continually adding on to and improving the solution. At Othot, our teams are creating and using the latest technology and innovations in predictive analytics. We work with higher education institutions every day and understand market demands and customer needs. Our team knows how to link their work to business value.
In addition, a purchased solution might have capabilities that you didn't even know you needed or were even possible. Data is the lifeblood of predictive analytics and Othot automatically augments your data with additional 3rd party data sets to further boost the performance and predictive capabilities. This coupled with lifecycle modeling create a combination of insights and prescriptions that most industry professionals don't even know is possible.
When you buy a solution, you can be up and running and realizing value quickly. At Othot, we can deploy our solution in 45 days or less. If you build, it may take months or years to develop and deploy a solution, leaving you behind your competition and missing out on unrealized opportunities. The time spent to build could have been used to focus on another value-added activity, like executing on predictive insights.
Finally, you may find that buying may be more cost effective than the build alternative once you have calculated all of your development, production and ongoing resource expenses. Buying a solution may also enable existing staff to focus their time on other impactful projects.
Conclusion
The build versus buy decision involves several key considerations, from defining requirements and estimating costs to evaluating what solutions already exist.
If you have the internal resources to support a build, can they deliver it on time and on budget?
If you're buying the solution, does it meet your requirements?
If building or buying is truly a viable option, does the total value of building outweigh buying?
As you're balancing the needs of your institution, take the time to evaluate what will work best for your school and your budget. The consequences of your decision may impact your top and bottom line for years to come.
Build vs. Buy Matrix
| Considerations | Build | Buy | Takeaway |
| --- | --- | --- | --- |
| Cost to Develop | Initial investment to develop software solution could be expensive, plus there are ongoing costs for development, maintenance and support. | Typically, no development costs. Minimal costs for onboarding and training. | Development costs are considerably less in the buy scenario. |
| Time to Develop | A year or more. | Implement the solution in as little as two months. | Go live quickly with buy scenario. Time-to-value is accelerated. |
| Resources Required | At least a small team of highly skilled engineers, data scientists, designers and support staff is needed to build a solution. | 1 to 2 employees to attend software training. Minimal IT needs if solution is SaaS. | Buy approach requires considerably less staff resources. Time to value is accelerated. |
| Ongoing Support & Maintenance | There are costs associated to support and evolve the platform, including training, integrations, additional servers and/or software. | Very minimal. Support and maintenance are supplied by the vendor. Occasional integration data updates needed. | Buy approach reduces costs and risks. Time to value is accelerated. |
| Core Competency Focus | Distracted from core objectives. Cost of the entire learning curve to build and implement the solution is borne by the customer. | Focus on business goals and objectives. Leverage expertise of vendor's dedicated team of engineers, data scientists and customer support. | Buying software allows team to focus on core business objectives and value-added activities. |

Source:
1https://www.vion.com/assets/site_18/files/vion%20collateral/vio_011_01vionwhitepaper_ls_r2.pdf